EigenD 2.1.7-community-mac on Mac OSX 10.14.6 (Mojave)
I am talking about MIDI output from EigenD.
—
In [MIDI converter] I've set Roll for Pico keys to pitchbend
and told it to return to 64 (parameter Bounds, Base 50%):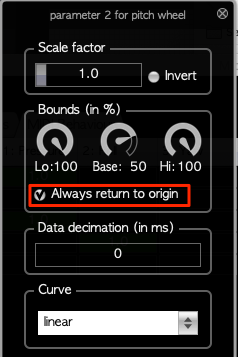 But it does not return. Here is a list of remaining pitchbend values after I "rolled" and released a couple of Pico keys:
45, 91, 50, 92, 49, 87, 50, 82, 55, 83, 60, 87, 47, 94, 51, 80.
The differences to 64 are quite big and of course audible with some sounds and a large pitchbend range.
It does not go better with data decimation.
It is almost the same with Yaw.
Only Pressure is almost perfect.
On Yaw I have Modulation (CC 1) and the origin is 0. But I see the same behavior, so the 50% origin of pitchbend is not the issue.
I understand that the hardware keys cannot work perfectly in this regard and that this was one reason to implement the "Return to origin" parameter. However, it does not seem to work properly with my EigenD.
What could be the cause for high remaining values I have after releasing a key? Probably the MIDI output? Or did I miss a setting?