From their web site
We are happy to announce the release of Version 0.19 of the Morph Firmware and SenselApp. This update includes a large number of changes to the Morph and SenselApp that we are excited to share with the community. Go to the Sensel Support page to download the latest SenselApp and make sure to update your Morph to the latest firmware.
Let's jump into the changes.
Simplified iPhone and iPad Connections
Tired of using the powered USB dongle or using a powered hub for iOS? You can now open the SenselApp, go to Morph-XXXX, check "Slow Charge (iOS USB)", and then press "Send Settings to Morph". This will prevent the Morph from going into Fast Charge mode, which keeps the Morph power draw low enough to be used with the iOS unpowered USB to lightning dongle (aka "Camera Connection Kit"). This also could add support for other low power USB hosts, but it has only been tested and developed with iOS in mind.
This does mean that the Morph will take longer to charge (even when plugged into a high power USB), but if you ever need to switch back, just switch it back in the Sensel App.
96 Areas in Innovator's Overlay
We heard your feedback. 48 areas in the Innovator's Overlay was not enough, so we doubled it to 96 areas. Due to this increase in areas, you may need to flash your Innovator's Overlay Map again after the firmware update.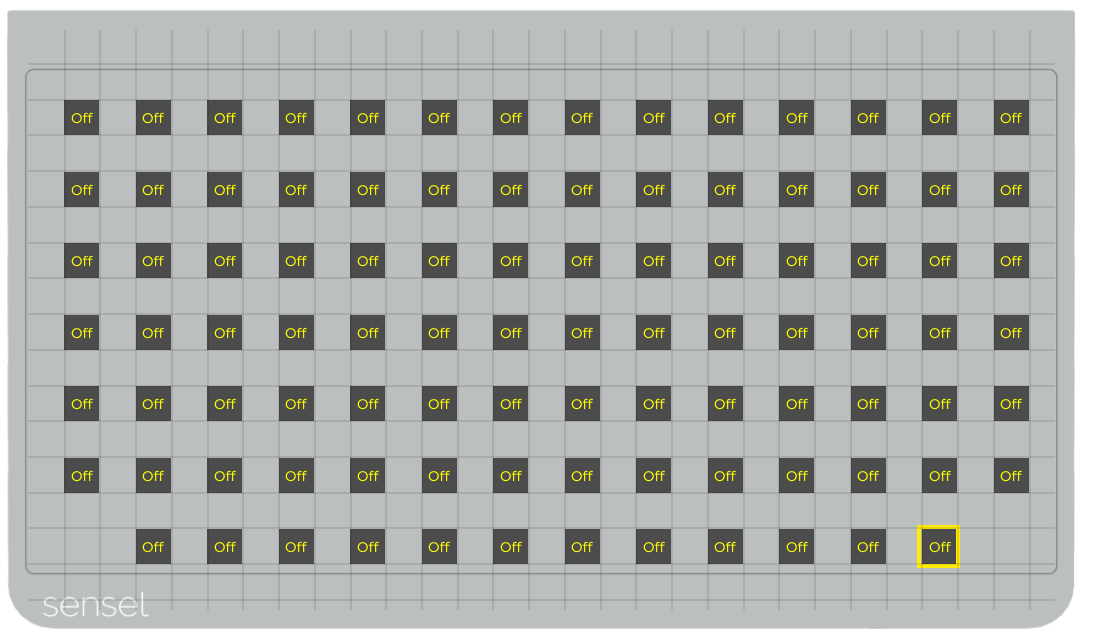 Undo/Redo
Undo and redo changes made to your Maps. These changes are per map so you can switch between maps and keep your Undo/Redo stack. You can either use the buttons or keyboard shortcuts (control/cmd + Z for Undo and control/cmd+Y for Redo).
Copy/Paste
You can now copy and paste settings from one or more areas. Just select the areas you want to copy, press control/cmd+C, select the areas you want to paste into, and press control/cmd+V. Note, you have to select the same number of copied areas to paste into the areas. Additionally, the order you select the areas determines the order of how those areas are pasted. You can also use contro/cmd+A to select all areas on the Overlay. This can be useful for copying to another map, or on the Buchla Overlay, copying data from one set to another.
Keyboard Shortcuts
As mentioned in the last two sections, there are now some keyboard shortcuts. Here is the current list.
Copy (Control/Command + C)
Paste (Control/Command + V)
Select All (Control/Command+A)
Undo (Control/Command+Z)
Redo (Control/Command+Y)
Save (Control/Command+S)
Quit (Control/Command+Q)
Buchla Thunder Alpha
In preparation for the Buchla Thunder Overlay release, we are releasing an alpha version of the mapping tool for this Overlay. Included in this Overlay is the ability to set 9 different presets that you can switch between in the SenselApp by pressing "Set 1-9" in the top bar. On the Buchla Thunder Overlay, you will press the top-center button and then press 1-9 to select the preset you want. Switching presets is only on the Buchla Thunder Overlay.
We are excited to show what is possible with this Overlay and look forward to sharing it with the community when it is released.
Relative Sliders
You can now create relative MPE and MIDI XYZ sliders that do not snap back to the center on the next touch. To make use of this function, create an MPE or MIDI XYZ pad and turn off Absolute Y and Recenter CC. Now, each area will have a stored CC value and will move up/down from that point until it hits 0 or 127.
UI
There are a few other UI items spread out between the firmware and SenselApp.
There is a color picker available in the Innovator's Overlay so you don't need to memorize hex colors.
There are ? buttons that will take you to the guide so that you can learn about features or controls.
The controls in the dropdown menu have been organized by type (MIDI, keyboard, touchpad, gamepad, etc.)
LEDs stay on when playing a MIDI note until the note is released.
Vertical MIDI CC sliders are now the correct direction (bottom is 0, top is 127).
Hex buttons have correct bounds
Other Notes
We are still working on the 0.19 Linux update. As soon as it is available, we will update this post.
We no longer provide MIDI feedback in the SenselApp. Grabbing the MIDI port on Windows would prevent other applications from using MIDI and it tended to cause some confusion when a piano would play along with the users DAW. As a result, we disabled this feature. If you need to see feedback, we would recommend MIDI monitor on Mac and MIDI OX on Windows.
Since we are not selling the Art Overlay, it is no longer listed on the Add Overlay screen by default. If you own a Art Overlay, it will appear on this screen if you have an Art Overlay map, you start the SenselApp with the Art Overlay on your Morph, or you plug in your Morph with the Art Overlay on the Morph.
There are a few other items that are enabled by this update and we will be excited to share them when they are complete.
Enjoy the update!